GUEST ARTISTS - 2019-2020 SEASON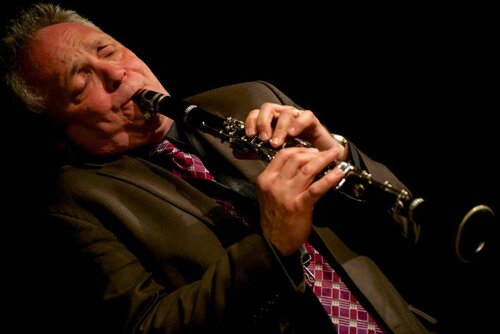 In 2013, Russell Davies of BBC2 said that "Ken Peplowski is arguably the greatest living jazz clarinetist." A Cleveland, Ohio native, Ken and his trumpet-playing brother Ted made many local radio and TV appearances and played for Polish dances and weddings virtually every weekend all through high-school. "That's where I learned to improvise, 'fake' songs, learn about chord changes, etc.- it's exactly like learning to swim by being thrown into the water!" Peplowski signed with Concord Records, under the tutelage of Carl Jefferson, the founder and president, and recorded close to 20 albums as a leader, including "The Natural Touch" in 1992 which won Best Jazz Record of the Year by the Prises Deutschen Schallplatten Kritiken, and "The Other Portrait," recorded in Sophia, Bulgaria with the symphony orchestra and highlighting Ken's classical side. He also recorded two records on the Nagel Heyer label,"Lost In The Stars" and "Easy To Remember," the latter of which features Bobby Short on his last recording. "I loved Bobby Short's approach to the American songbook, and we'd talked about doing a record together for a while – I'm glad we got this one 'in the can.'"
Ken Peplowski has recorded approximately 50 CDs as a soloist, and close to 400 as a sideman. He travels at least half of every year, playing clubs, concert halls, colleges, and pops concerts. He has headlined the Hollywood Bowl, Carnegie Hall, the Blue Note, and Dizzy's Club amongst many other venues. Ken's recorded the Darius Milhaud Clarinet Concerto with an orchestra in Sofia, Bulgaria, and was a featured soloist (playing Mozart) in 2015 at the Siletz Bay Music Festival in Oregon. Ken was the musical director of the Oregon Festival Of American Music (OFAM) for eight years, and is a longtime performer/consultant to The Jazz Cruise, where he was elected into the Jazz Cruise Hall Of Fame in 2013. Ken's new album, recorded for Capri is called "Enrapture".
WILLIAM GOFORTH - TENOR
William Goforth is a graduate of the Julliard School and furthered his education through master courses at Franz Schubert Institut, Britten-Pears Young Artist Programme, Heidelberger Frühling Liedakademie, Georg Soltie Accademia, and masterclasses sponsored by the Richard Tucker Foundation. William joined the International Opera Studio of Oper Köln for the 2018/19 season singing Il Conte di Bandiera in Salieri's La Scuola dei Gelosi in the Kammeroper, Tamino in Die Zauberflöte für Kinder and 3rd Jew in Salome in Große Bühne. William has appeared at the Brooklin Academy of Music, with American Repertory Theatre, with the Oregon and Seattle Symphonies, at the Aquilon Music Festival, and in concert around the Pacific Northwest with Pink Martini.
Anton Belov - BARITONE
The voice of Baritone Anton Belov has been called "rich and mellifluous" by the NY Times, while the Philadelphia Inquirer described him as "an emerging star." His soloist performance in Carmina Burana was described by Florida Weekly as captivating in every way. Critics and audiences have praised his portrayals of Enrico (Lucia di Lammermoor), Don Giovanni, Count di Luna (Il trovatore), Eugene Onegin, Escamillo in Carmen and Figaro in Le nozze di Figaro. In the 2018-2019 season, Mr. Belov appeared in the title role of Alva Henderson's Nosferatu (Rimrock Opera), as Germont in La Traviata (Vashon Opera), and the Pilot in The Little Prince by Rachel Portman (Opera Theater Oregon). Mr. Belov is the first-place winner of 8 vocal competitions including the George London Competition and Metropolitan Opera National Council Auditions. A native of Moscow, Anton Belov holds a Doctorate of Music degree from Boston University and a Master of Music Degree from The Juilliard School. Dr. Belov is an associate professor at Linfield College in McMinnville, Oregon and the founding artistic director of Aquilon Music Festival.
SAMANTHA GRAMBOW - SOPRANO
Recognized for her authenticity and attention to text, American soprano Samantha Grambow appears regionally as a recitalist and on the opera, oratorio and concert stages. Favorite opera roles include Fire in Ravel's L'enfant et les sortilèges, Zerlina in Mozart's Don Giovanni, and Norina in Donizetti's Don Pasquale. International credits include Suor Genovieffa in Puccini's Suor Angelica (Viterbo, Italy) and Ascanio in Pergolesi's Lo frate 'nnamorato (Rome, Italy). In 2016, Samantha sang the world premiere of Gwyneth Walker's Emily! at the National Association of Teachers of Singing Publishers Showcase in Chicago. Most recently, she made her solo debut with the Tucson Symphony Orchestra and was awarded a scholarship from the American Opera Society. More information can be found at www.samanthafarmilantsoprano.com
LAURA BECKEL THORESON - MEZZO SOPRANO
Hailed as "one of the loveliest voices in the Northwest" (Oregon ArtsWatch), mezzo-soprano Laura Beckel Thoreson enjoys a widely varied singing career in the USA and abroad, spanning opera, oratorio, recital, and ensemble performances. She has appeared with such groups as Portland Opera, Eugene Opera, Utah Festival Opera and more, and has performed internationally in Canada, England, Scotland, Belgium, and the Netherlands. Ms. Thoreson is a frequent collaborator with composers, participating often in world premiere performances and appearing on Billboard Top-Ten recordings. As a Pacific Northwest native, she participates in our musical community as a founding member of Portland's Northwest Art Song organization, and as a frequent guest on All-Classical 89.9's live radio program, Thursdays @ Three. Recent and upcoming engagements include performances with Oregon Sinfonietta (Mahler's Symphony No. 4), Portland Youth Philharmonic (Bernstein's Jeremiah Symphony), Northwest Art Song (a program of new commissions entitled Feminine Love), Portland Baroque Orchestra, Naples Philharmonic, and Orchestra Seattle (Handel's Messiah), and more. A graduate of Central Washington University and Indiana University's prestigious Jacobs School of Music, Ms. Thoreson was a member of the voice faculty at the University of Portland, and now holds a faculty position at Clark College, and maintains a full private voice studio.